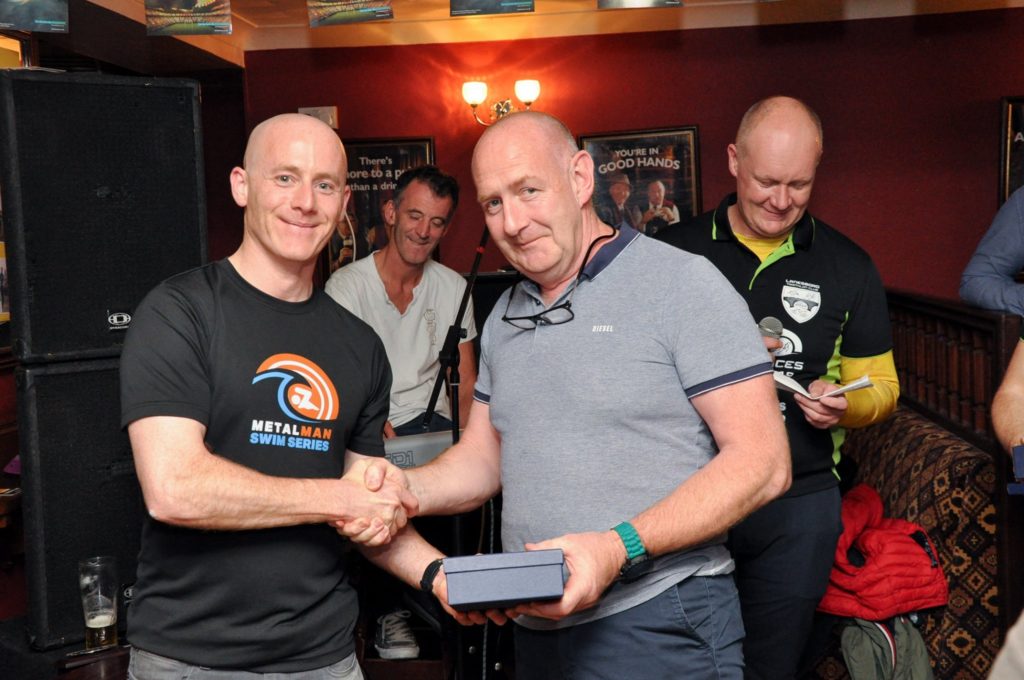 Lanesboro Tri Club held its end of season social last night. The event, which took place in the Yacht Bar in Lanesborough, was roaring success! It was a chance for members to relax and celebrate after months of hard work. It also doubled up as our awards night with prizes given out in a number of categories (see below).
A special mention has to go to Niall O'Donohue, winner of the Club Person of the Year award. Founder member Niall has worked tirelessly over the year and has been instrumental in getting the new club rooms ready over the last month or so.
The full list of awards is as follows…
CLUB RACE
1st Team: "You Wine Some" – Grainne Egan/Mark Kenny/Bernie Smith
2nd Team: "Pigs Can Fly" – Ciara Moran/John Healy/Laura Dermody
3rd Team: "Worth a Tri" – Fidelma Brennan/Sean Farrell/Eileen Kelly
1st Individual Male: Mark Kenny
2nd Individual Male: Niall Mulvihill
3rd Individual Male: Cian Crosbie
1st Individual Female: Elaine Lally
2nd Individual Female: Catherine Hanly
3rd Individual Female: Bernie Smith
1st Zero2Tri Male: Kristian Hanley
1st Zero2Tri Female: Ciara Moran
AQUATHON
1st Male: Johnny Kilcoyne
1st Female: Elaine Lally
1st Short Swim Male: James Casey
1st Short Swim Female: Tonya Hand
OTHERS
Most Improved Swimmer: Thomas Mockler
Most Improved Cyclists: Carmel Hayes
Most Improved Runner: David Beattie
Triathlete of the year: Grainne Egan
Club Person of the Year: Niall O'Donohue
Well done to all the winners and to all club members who trained and raced hard this year. We look forward now to the winter training and an even bigger and better season in 2020!